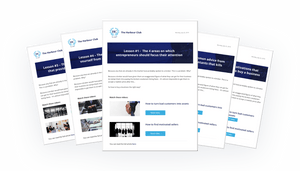 21-Day Email Course:  How To Buy Businesses Without Using Cash Upfront, Lawyers or Leverage
During this 21-day email course you'll discover...


Module #1 – How To Source Deals
Why buying and selling businesses during the coming decade will be one of the greatest opportunities of our lifetime. - Day 1
The 4 areas on which entrepreneurs should focus their attention to create wealth without doing more sales or marketing. - Day 1
3 motivations that allowed Jeremy to buy a business owner's IT company for nothing upfront. (Hint: "money" was not one of them.) - Day 2
The sourcing method that provides a reliable and steady flow of leads. (One student has completed 15 deals with this.) - Day 3
Forget seeking the help of insolvency practitioners or business brokers! You'll discover the reason you shouldn't buy companies listed for sale and what to do instead. - Day 3
Module #2 – How To Build Rapport and Fact Find
The best way to protect yourself from a recession. (Jeremy learnt this painful lesson after losing a call centre business that generated £800,000 ($992,000) net profit per year before the 2008 crisis.) - Day 4
The common advice from lawyers and accountants that kills potential deals with business owners, and what to do instead. - Day 5
How to position yourself strategically to reach more business owners and have productive conversations. - Day 5
How Jeremy's student (Gauri) bought a £3.2 million business for zero cash upfront. (Deep-dive case study video presentation included.) - Day 6
The vital business purchase that's cheaper than a hardback book. (Never ever do deals without this.) - Day 9
The 9 "Deal Pie" elements to structure zero cash upfront deals. (One of them is deferred payments.) - Day 7
How Jeremy acquired a company that generated $92 million dollars in revenue for no cash upfront. (His biggest deal to date.) - Day 10
Discover 12 of the 14 "cookie-cutter" deal structure templates we teach to buy companies for zero cash upfront. - Day 8
3 reasons global capital ignores the small business sector. Plus, the new model that helps entrepreneurs scale and exit at much higher multiples. (Hint: It's not with Roll-ups.) - Day 10
How Jeremy's student Chris (from the USA) used the Harbour Club "Property Split" strategy to buy a business and quickly flip the attached property for $68,000. - Day 8
How students have earned 6-7 figure stakes in businesses by having Jeremy close deals for them. - Day 11
Module #4 – How To Meet and Close Deals
11 words that virtually guarantee you get a deal done. (This works wonders once you've reached the "meet and close" stage of negotiations.) - Day 12
How Steve (one of Jeremy's students) overcame a business owner's surprise request for an extra £50,000 and bought the company for zero cash upfront. Plus, the document that rescued his £1.7 million deal from falling apart. - Day 13
How to stop the previous owner from running off with all your best staff and customers. Sadly, "non-compete" clauses don't work. You'll discover what to do instead. - Day 14
How to ensure you get paid your fair share of profits when you take a small stake in a company. This strategy was born after Jeremy received zero dividends despite having a 40% stake in a music school. (It made £2 million of net profit.) - Day 15
Cash is king. Businesses don't go bust from a lack of profit but a lack of cash. In this lesson, you'll learn the "4 quadrants" strategy to improve cash flow problems. - Day 16
The management strategy Jeremy used to increase the gross profits of his telecom business by 30%. - Day 17
How to get an extra 7 days' credit terms from your supplier without getting complaints. (You don't even need to contact them to use this simple payment hack.) - Day 16
The simple tweak that can add up to 40% net profit to a business. - Day 17
Module #7 – Exit Strategies
Warning: You must remove yourself from a business before you sell or you'll end up wearing golden handcuffs. Buyers don't want jobs. They want experienced managers to run their companies. In lesson #18 you'll discover how to find the most qualified and talented CEO to run your business before you exit. (Tip: Never recruit a CEO who is available for hire.) - Day 18
The valuation model that allowed Jeremy to sell a health club for 6-figures even though it made zero profit. - Day 19
Module #8 – Wealth Creation Strategies
Financial hack that allows you to borrow cash for investments, boats, cars or anything you want at 0.7% per year. (Yes, you heard that right. You could borrow $100,000 for only $700 of interest per year.) - Day 20
How Jeremy bought a 43-foot Azimut Yacht for 40% below market value with cash he borrowed at 0.7%. (It only cost him 1,470 euros per year in interest.) Plus, how he flipped the yacht for a profit 2 years later and got another deal just like it. - Day 21
How Jeremy makes a 20-30% return on tech stocks (like Apple and Amazon) without buying them. Plus, the financial hack he used to drive a nearly new Maserati Levante SUV for 5 months at a total cost of only 200 euros. - Day 21

and much much more...!