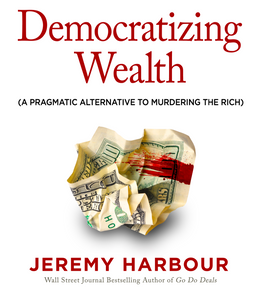 Harbour is on a crusade to fix global inequality.
The current economic system has died, but it was not a bad idea. It has been killed by a financial system that has grown to serve itself, and by accident has ended up creating an almost parallel, synthetic economy in which we find most of the money, while the value that is being created every day goes unrewarded.
However, for all that the parallel economy and financial sector is exacerbating wealth inequality in the world, capitalism isn't necessarily a bad idea.
Capitalism needs fixing (tweaking), not replacing; it doesn't serve everyone right now, but it has been a demonstrably positive force, and the current alternatives have all been tried before and found to bring misery, starvation, and death. Centralized control economies with state ownership always seem to end with people eating their pets. 
The purpose of this book is not only to promote Harbour's approach to solving this problem but to encourage others to come up with ideas, too: to recognize the problem and look for other ways that it could be addressed.
Learn how to do your part in democratizing wealth, rather than having to go out and murder the rich!